I was cleaning out my files today on the train and found a bunch of short documents squirreled away all over my laptop (not the most organized filer here.) I guess I used to sit down and write out a random public space idea, then save and forget all about it. Below is the first one, exactly as I wrote it a few years ago. It's silly and ingenuous and not well-developed - but I did laugh.

Small, interstitial public spaces are the best opportunities to improve the experience of a city dweller. Though New York City has lately paid much attention to reclaiming public space such as pop-up cafes, new public plazas from underutilized street space, the bus stop – and the bus layover space, with its 15 feet of curb – is an underutilized space as well. And of all of New York City's residents, the bus rider's experience is one given the least attention.

This is a campaign to provide to bus riders a truly magnificent experience, one that equals the benefits they provide the city by not driving a car, polluting the air, and endangering its citizens. Historically, bus riders have been viewed as second class citizens. This is perhaps illustrated by the way Charlotte, NC, in the 1980s encouraged the development of skywalks, pristine walkways that protected privileged citizens from the weather as well as providing access to retail. Down below, on the messiness of the street, no shelter was provided for bus riders. They were forced to stand up to climate and few amenities.

The campaign will identify popular bus stops – those with plenty of riders but with very few amenities. (Though NYC has launched a new street furniture system with new bus shelters, the shelters are expensive enough and sidewalk space scarce enough that not all bus stops will have shelters.) Adopt-a-Stop would pair the bus stop with a local civic organization. On a designated day of the year, the group will design an experience for riders alighting the bus at that particular stop. This will draw attention to the highly utilized bus stop system and greatly underserved bus ridership in NYC. Why shouldn't bus riders receive the same high quality experience as other people on the street?

Yes, why the hell not?? And to get your creative juices going, here's a set of amazing bus shelters.
Soviet Style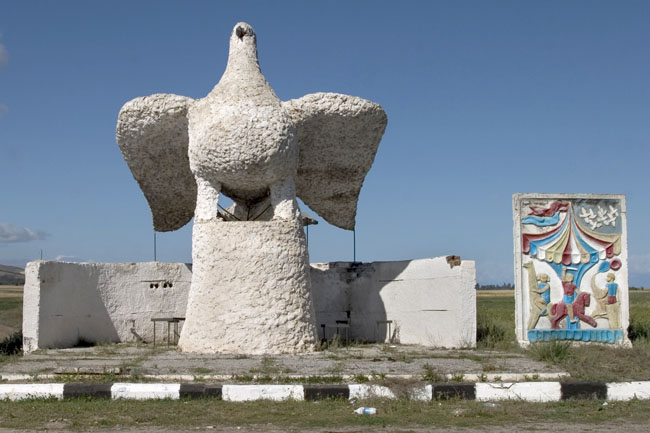 Beat the cold in Minneapolis
In Unst
This one is famously community-oriented.
Tons more on
flickr
...