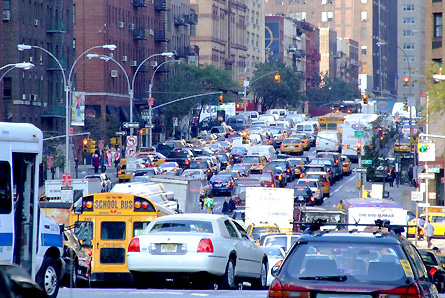 Image from Gotham Gazette

I got this Gotham Gazette article sent to me about 4 times this morning, so it's the must-read of the day. (And the Issue of the Week on the Gazette).

It's just terrific to see how multiple advocacy organizations are banding together and trying to define an alternative to NYC transportation as we know it. It's also wonderful that there's mass appeal to city-wide leadership.

However, I'd like to see the focus of discussion shift from cars (e.g., more cars, less cars, less congestion, through-out, level of service, etc.) to something that says we'd like make our streets more friendly for bikers and pedestrians. Something that includes the people who travel the streets, like we'd like to make our roads the kind that children and seniors can cross safely.

When we constantly define success within the parameters of what already exists, it gets nearly impossible to create transformative change. For example: NYC DOT, and many other transportation agencies, defines agency success by what's called "level of service." Level of service is primarily driven by how well the roads service vehicular transportation. This typically implies that congestion is bad. But it's not always bad. Congestion in an urban context used to be considered good. (West Palm Beach has changed its understanding of level of service to be that congestion in the city center is actually good! If you're a wonk, check out this report, opens in a PDF.)

Still, this says nothing about the other 80% or so of the travellers in NYC -- the walkers, transit riders, and bikers. If we don't start looking beyond the end of our nose, we'll constantly struggle to come up with some different way of defining good performance, and we'll consistently stay pretty much the same. Sure, there will be incremental change along the way - a spot victory here and there, like a sidewalk widened or a bump-out added or a bike lane painted, but how much longer can that level of struggle be sustained? Isn't it time we just come together and really understand: what do we want our city's streets to look like?

This can be done. Think of Copenhagen, which went through a multiple decade process, starting in the early 1960s. Or London, which recently went through its own street (and public space) renaissance. Instead of prematurely offering another transportation solution (congestion pricing, value pricing, bridge tolls, etc.) how about we offer a transportation vision, and consider transportation our bikers, bus- and train-riders, and pedestrians -- as well as our drivers.

This takes some change at all levels. Advocacy/grassroots groups need to continue to be as strong as they are, but also offer alternative ways of looking at transportation and think beyond the traditional transportation street paradigm. Planning and transportation professionals should think beyond performance metrics as laid down by the Green Book, and think about the community goals they can contribute to -- with streets as the main tool. And leadership should think beyond the narrow band of political agendas and create a broad vision for their communities, districts, cities, and yes, regions.